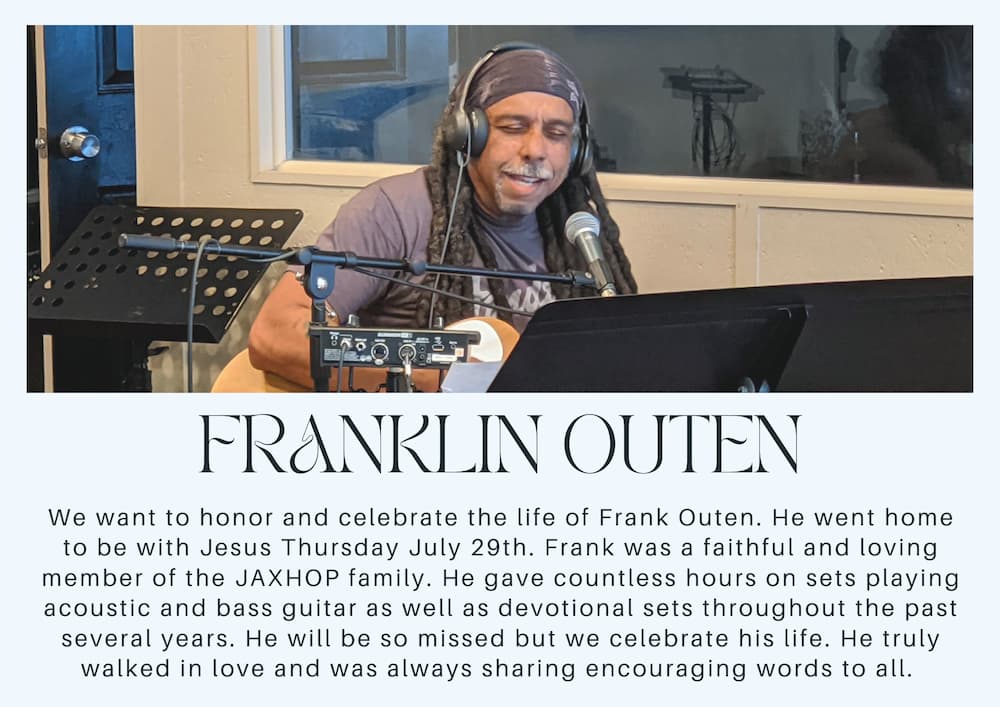 ---
We want to honor and celebrate the life of Frank Outen. He went home to be with Jesus Thursday July 29th. Frank was a faithful and loving member of the JAXHOP family. He gave countless hours on sets playing acoustic and bass guitar as well as devotional sets throughout the past several years.
He will be so missed but we celebrate his life. He truly walked in love and was always sharing encouraging words to all.
He was a foster parent to 48 kids many of whom he remained involved with even up to his death. Frank was a Navy Veteran, a lover of all things music and guitar! If you find it in your heart to donate please do so, and please keep all those who loved him and are left behind in your prayers!
https://www.gofundme.com/f/funeral-expenses-for-frank-outen-jr
JAXHOP is open for general attendance.
ONE THING I HAVE DESIRED OF THE LORD, THAT WILL I SEEK: THAT I MAY DWELL IN THE HOUSE OF THE LORD ALL THE DAYS OF MY LIFE, TO BEHOLD THE BEAUTY OF THE LORD, AND TO INQUIRE IN HIS TEMPLE. PSALM 27:4